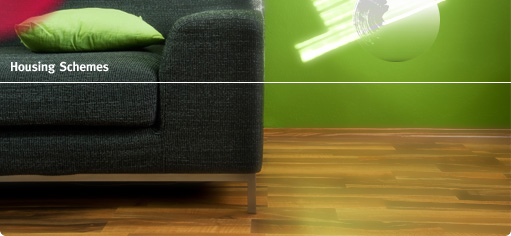 Housing Schemes
Different ways to help you buy your home
There are a wide range of schemes – Government and private sector – offering homes to prospective buyers. Your local HomeBuy Agent will give advice on which might suit you best. But here's an at-a-glance guide which looks at the three main ways to buy your home.
Outright purchase
Traditionally the most common way to purchase property. Here you put down a deposit then secure a loan for the remainder. In the era of 100% mortgages, this wasn't an issue. However, now that many lenders require a loan of at least 15-20%, this has made purchasing property outright out of the reach of most first-time buyers.
Shared ownership
The Government's New Build HomeBuy (NBHB) scheme is one of the most effective and affordable ways to get a home of your own. Here you buy a part share of a property (25% to 75%), then paid a subsidized rent on the remainder to a housing association. You can increase your share as time goes by, sometimes even up to 100%, and this is known as 'staircasing'.
Shared equity
Offered through housing associations and housebuilders (under a wide range of different guises), shared equity is another increasingly common way to buy a home. In this instance, you own the property and there are no rental payments.
Instead you will be provided with an 'equity loan' providing the lion's share of the deposit, usually up to 30% of the purchase price, some of these loans charge interest while others do not. At the point of sale, the same percentage borrowed initially is repaid to the equity loan lender based on the sale price.
Staircasing
As explained earlier, one of the key selling points of buying through shared ownership is that it is possible for the owner to purchase more shares as and when they can afford it, eventually moving towards total ownership of the property.
There are a number of restrictions and rules governing this process and there may be ongoing implications regarding the mortgage on your property which need to be considered, such as the end date or extent of capital repayments required.
Talk to us and we will be happy to assist you, should you wish to go down this route.
Resales
There are a large number of shared ownership properties that were built and sold in the past that are now available for purchase, either on a part-buy/part-rent basis or outright, because the current owners wish to sell.